Posted by Nobody at 04:01PM, Thursday, November 01st, 2007
Protesting Proposition 8
Along with several thousand other people, we attended the Prop 8 protest in Boston yesterday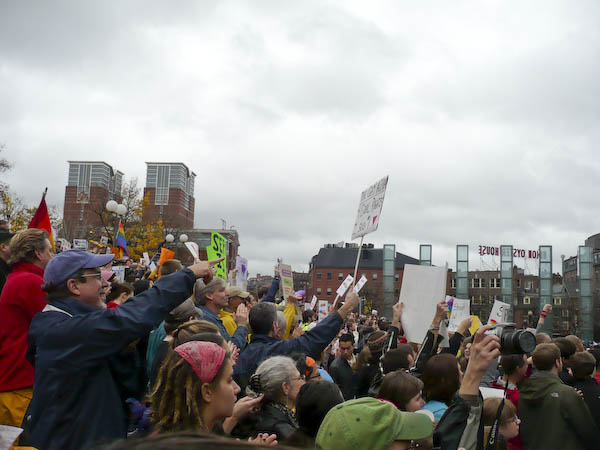 MassEquality organized a bunch of speakers, including U.S. Reps Mike Capuano and Niki Tsongas. One of the most moving speakers was one of the women first married on May 17, 2004. Massachusetts Rep. Carl Sciortino was also there.

People were good-natured and generally upbeat, but pretty energetic. Rep. Capuano was optimistic about the chances of passing ENDA and hate-crimes legislation under the new President. Marc Solomon, from MassEquality, talked about the amount of work and money that it would take to strike down DoMA and truly get marriage equality in Massachusetts.

Judging from the signs in the crowd, people seem to get that it's fundamentally anti-American to put the rights of the minority to a simple majority vote. That's encouraging.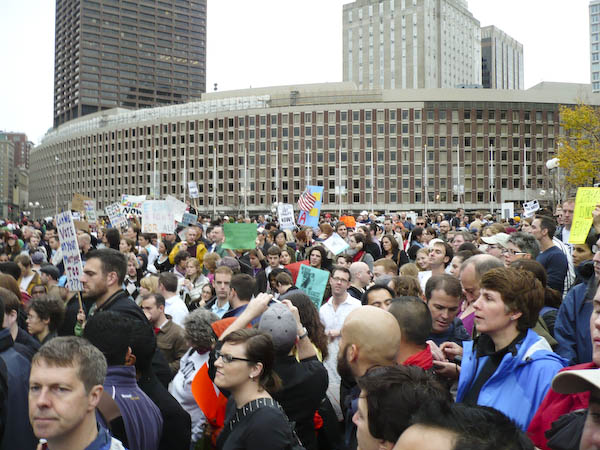 There was a pathetically small band of anti-marriage-equality protestors with the usual misleading Jesus references. Things stayed peaceful.

I'm not sure I believe the (super-brief) Globe article's estimate of four to five thousand attendees. It was tough to get a good vantage point, but it seemed like quite a teeming mass of humanity to me.

All content copyright © 2001-2009 the owners of http://www.circa75.com/